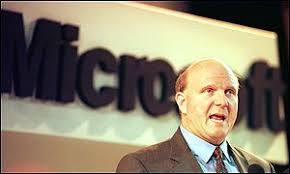 we've all read a bit about vista. but i ask myself what the big deal is. i've yet to work it out, so i turned with great interest to steve ballmer's interview in the FT. sure enough there are gems to be found:
Vista's an open system in which other people can connect in essentially the way we can. And there's a whole consent decree that basically talks about that. On the other hand, we bet, we invest, we add on to Vista more seriously than anybody else on the planet. Everybody can, but we do. And I think that gives us some unique opportunities.
got that? jeez, has he been talking too much to george w?
Again, there are things we do do, and can do, and things we don't do, and can't do. So I don't want to say that the introduction of Vista release fundamentally changes that. The thing we need to do of course is we need to have a better portable entertainment experience than Apple and a better search experience than Google.
well maybe donald rumsfeld then?